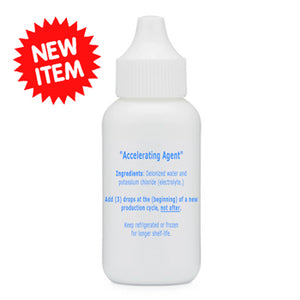 The SilverLungs™ Accelerating Agent reduces the production time by at least 50% and increases the silver electrode lifespan by at least twice.

This 2 oz. supply will accommodate the production of 100 batches of silver.

Further Explained:
The accelerating agent works like magic, reducing the initial production time of your silver solution by a whopping 75 minutes! It does this by adding a small amount of electrolyte to the solution, cutting down the normal production time by at least 50%. By eliminating that initial 75-minute delay in the electrolysis process, you'll spend less time overall creating a fresh batch of silver solution. This not only saves time but also drastically extends the lifespan of your silver electrodes since there's less need for frequent polarity switching.

There is no loss in the final PPM concentrations, nor does it affect the shelf-life of the solution. In fact, testing has shown that reducing the total hydroxide in the solution can actually increase its shelf-life.

Instructions:
Just add 3 drops of the Accelerating Agent to the distilled water, start a new production, and choose your power level setting. That's all there is to it!

Refrigerate or freeze upon receipt!
This particular item is perishable and may expire within 12 months if not stored in a refrigerated environment which significantly extends its shelf-life. If you opt to freeze it, the shelf-life can be extended for many years.

Ingredients:
• Deionized Water, Potassium Chloride (electrolyte.)

Features and Specifications:
• Non-Toxic
• 2 oz. Supply

Note: This is not a standard item included in the SilverLungs™ Generator kits.