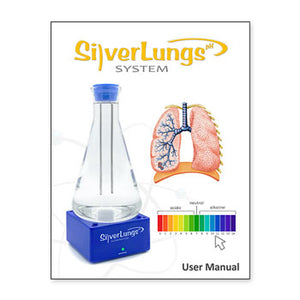 The user manual is your comprehensive guide to using and operating The SilverLungs™ Generator. It provides clear instructions on how to effectively utilize the device.

In addition, the manual covers essential information on maintaining the glassware, including proper cleaning techniques. It also provides guidance on using the water test meter to ensure optimal performance. Furthermore, you'll find valuable advice on storing and protecting your silver solutions.

The user manual includes an extensive FAQ section, filled with supplementary information to enhance your understanding and you'll have all the knowledge needed to make the most of your SilverLungs™ Generator.

Features:
• Full Color
• Additional FAQ section

Note: This is a standard item already included in every SilverLungs™ Generator kit.